Originally published on
this site
https://assets.themortgagereports.com/wp-content/uploads/2018/05/Monthly-Mortgage-Rates-Forecast-500x281.jpg
Mortgage rates forecast for August 2018
After a quiet summer, mortgage rates are on the move again.
The Fed will meet in August, but the bigger concern is around how tariffs will affect the economy.
At least one thing is clear: mortgage rates will look different at the end of the month than at the beginning.
Want to make sure you're not priced out of a home purchase or refinance? It might be wise to verify your rate and lock it in now.
Verify your new rate (Jul 27th, 2018)
Predictions for August
There is no shortage of market-moving news in August. Developments are forming now that will impact your ability to buy or refinance this month and in the remainder of the year.
1. Tariff wars will cause rates to fall…or rise
President Donald Trump is working toward trade deals that he sees as fair for the U.S. economy and workers within it.
Tariffs are now in effect for steel and aluminum, which affects companies that make everything from soda to washing machines. More than 1,300 Chinese products are on the list, and Trump has proposed a new 20 percent tariff on cars coming from the European Union (EU).
Tariffs — proposed or actual — will pull mortgage rates in opposite directions simultaneously in August. That's because the final effect of these changes are unknown, and markets can only speculate on each new development.
The case for falling mortgage rates
Rates could fall due to increasing concerns of a recession. In a perfect world, raising prices of foreign goods encourages domestic production, which helps the home economy.
But tariffs rarely go unanswered. Typically, the foreign country slaps tariffs right back, resulting in a trade war.
That means American companies have a harder time selling goods outside the U.S., resulting in layoffs and decreased production. For example, motorcycle maker Harley Davidson already announced moving some operations overseas due to retaliatory EU tariffs.
The tax policy nonprofit Tax Foundation estimates more than 300,000 jobs could be lost due to existing and proposed tariffs.
Mortgage rates could fall if investors predict that trade wars would do more harm than good.
The case for rising mortgage rates
On the other hand, tariffs could induce inflation, which is always bad for mortgage rates.
Tariffs increase prices for raw materials and other products from foreign sources. Companies pass along higher prices to consumers.
Looking at a very specific example, Toyota estimates that proposed tariffs on foreign autos would raise the price of the popular Camry by $1,800. Additionally, Coca-Cola has announced higher soda prices due to tariffs on aluminum.
Tariffs could prove inflationary if similar results are seen throughout the economy.
Such inflation erodes the value of long-term investments such as mortgage-backed securities (MBS), the asset upon which U.S. mortgage rates are based.
When inflation picks up, mortgage rates must rise to keep investors buying MBS.
Should you lock in now?
As a mortgage shopper, it's likely unwise to bet on a tariff-induced recession (and therefore lower rates). That could take a while, if it happens at all.
But, do watch for talk of easing tariffs, which happened between the U.S. and EU at the end of July. Rates could drop if the Trump administration unexpectedly relaxes trade rules.
Such rate drops would be short-lived, due to the recent upward trajectory of rates. Complete your home purchase or refinance application so you're ready to lock it in when the time comes.
Start the home buying or refinance application process here. (Jul 27th, 2018)
2. The Fed will keep its foot on the gas
The next Federal Open Market Comittee meeting adjourns August 1. The group is not expected to raise rates or shift policy.
Rate hikes will likely happen in September and December.
However, expect the group to reinforce its plan to keep raising the federal funds rate this year and next.
In June, Fed chief Jerome Powell stated, "With unemployment low and expected to decline further, inflation close to our objective, and the risks to the outlook roughly balanced, the case for continued gradual increases in the federal funds rate is strong."
The Fed does not want the U.S. economy to get too hot.
Rampant growth could lead to inflation and an eventual crash landing for the economy — a situation the Fed would rather avoid.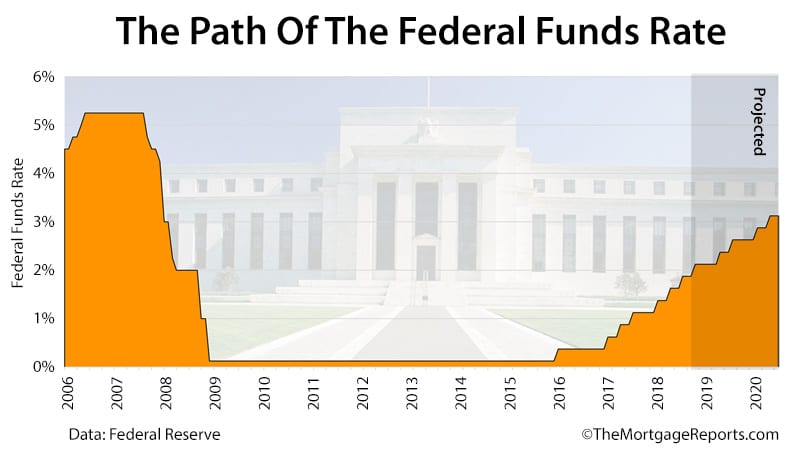 As a mortgage shopper, the bottom line is that we're in a rising rate environment. If you haven't locked in your home purchase or refinance rate yet…well, insert your favorite anti-procrastination maxim here.
There's not much hope that rates will fall back to pre-2018 levels any time soon.
Verify your new rate (Jul 27th, 2018)
3. The hot economy will continue to put upward pressure on rates
Many mortgage consumers wonder what the economy has to do with mortgage rates.
In a word: everything.
Mortgage rates tend to be higher when the economy is doing well. That's because inflation takes off and investors seek higher returns than mortgage bonds can offer.
In response, mortgage interest rates must rise to keep investors interested in them at all. Hence higher rates for consumers.
The unemployment rate is currently just 4.0%. Unemployment hasn't been this low since the year 2000.
There doesn't seem to be any cracks in the economy, either. Recent tax cuts have fanned the fire, and companies are on a hiring spree.
"The unemployment rate is currently just 4.0%."
This is all good news. You probably have a job, and you might be more likely to get a raise than at any time during your career thus far. But the flip side is, you'll likely receive a higher mortgage rate.
If you're in the market to buy a home or refinance one, don't expect rates to drop in 2018. It appears it's all up, up, up for the remainder of the year.
4. Consumers will look to cash-out refinances despite higher rates
Tapping into home equity is nothing new, but the trend will continue as 2018 marches on.
U.S. homeowners gained $1 trillion in equity over the past year, giving them newfound wealth to improve their homes.
Homeowners are not moving out. You can't blame them. Who wants to struggle for months to find a home, pay top dollar, and receive a higher interest rate than they have now?
That's why so many are turning to cash-out refinances. You can take out a bigger mortgage balance than you have now, and get the difference in cash.
"U.S. homeowners gained $1 trillion in equity over the past year, giving them newfound wealth to improve their homes."
Homeowners are using their home equity to remodel and expand their homes. That saves them from paying massive real estate commissions to sell their home and buy a new one.
Consider this: it costs a homeowner nearly 10% of their home equity to sell. That's $50,000 on a $500,000 home. Why not use that $50,000 in equity to rectify any dissatisfaction with the home?
A cash-out refinance allows you to remodel the kitchen, add a bedroom, take care of long-needed repairs, add a pool, or just about any other improvement. There are no "rules" on what you can do with the money.
The only potential drawback is that homeowners may receive a higher interest rate if they take out a new loan. Still, the overall cost may be lower than taking out a personal loan or moving residences.
Additionally, a home equity line of credit might cost less than a full cash-out refinance.
As a homeowner, there's little reason not to tap into your massive amount of equity.
Check your cash-out refinance eligibility here. (Jul 27th, 2018)
Mortgage rate predictions for 2018 and 2019
Mortgage rates have already surpassed predictions cast by major housing agencies at the end of 2017. Now, the question is, what are these groups forecasting for the remainder of the year?
| | | |
| --- | --- | --- |
| Agency | 2018 Prediction | 2019 Prediction |
| Mortgage Bankers Association | 4.9% | 5.4% |
| Freddie Mac | 4.6% | 5.1% |
| Fannie Mae | 4.5% | 4.5% |
| Realtor.com | 5.0% | No forecast |
| National Association of Realtors | 4.5% | 4.8% |
| Kiplinger | 4.7% | No forecast |
| National Association of Home Builders | 4.5% | 5.0% |
To sum it up, everyone is predicting higher rates. Today's rate might be as good as we'll see for years to come.
Verify your new rate (Jul 27th, 2018)
Advice for August 2018
Knowing what will happen in August is only half the battle. As a mortgage rate shopper, now you need to know the best actions to take this month.
Freddie Mac: Mortgage rates are rising. Shop around
Rates are higher now than they have been since 2011.
At the end of July, the 30-year fixed rate hit 4.54%, almost three-quarters of a percent higher than one year ago, says housing agency, Freddie Mac. That adds $100 per month to a $250,000 mortgage.
Rates from 2011 wouldn't be so bad if we had home prices to match. Back then, the average home would cost you around $170,000. The price tag now? According to the National Association of Realtors, $276,900, an all-time high.
Even adjusting for inflation, that's a 35% increase in home cost since seven years ago.
So what's your best move as a mortgage shopper? Freddie Mac says it could be to shop for your mortgage rate like you shop for any other major purchase.
The agency says that nearly half of consumers take the first mortgage quote they receive. They don't check rates and fees with more than one lender.
Making one additional call or getting an additional quote online would save $1,500 over the life of the loan on average. Getting five quotes would save consumers $3,000.
"Freddie Mac: One additional mortgage quote could save you $1,500. Five quotes could save $3,000."
Most consumers don't buy the first car on the first lot they visit. That's a big purchase. But many do just that when it comes to finding a mortgage.
Want to get the upper hand on today's rising rates? Get a quote from as many lenders as you can. Then send the best quote to the other lenders to match or beat it.
You'll weed out the lenders that can't compete, and you'll end up with a much lower rate than you would have by accepting your first quote as the lender's best deal.
Get up to 4 mortgage quotes here. (Jul 27th, 2018)
Consider an adjustable-rate mortgage (ARM)
Not all mortgage rates react the same in any given economy.
Adjustable rate mortgages rates rise more slowly than their fixed-rate counterparts.
ARMs are 30-year loans that are fixed for a certain period of time — usually 3-7 years. Rates change based on rates after the initial fixed period.
Markets usually price ARMs more reasonably when rates are rising. That's because more risk is passed to the consumer. Consumers who are willing to accept that risk can save a lot of money.
"Adjustable mortgage rates rise more slowly than fixed-rate ones."
According to Freddie Mac data, ARMs are currently 0.67% below 30-year fixed rates and .15% below 15-year fixed loans.
ARMs and 15-year fixed rates are about the same when rates are stable. But in rising environments, the 15-year fixed (green line) rises faster than an ARM (orange line).
Image: Freddie Mac
Subdued ARM rates mean you can go back in time, in a sense. Throughout 2017, 30-year fixed rates hovered in the high 3s. Now, adjustable-rate mortgages are in the same range. You can still capture rates that few realize exist.
Learn more about ARM loans here.
But ARMs are not without risk. If you are not able to sell the home, refinance, or otherwise pay off the loan, your payment could rise.
The good news is that ARMs are now heavily regulated. They give you a stable payment for up to 7 years. They then adjust just once per year, and there are limits to how much the rate can move upward.
For home buyers or refinancing households, ARMs could be the low-cost answer they've been looking for.
Get an adjustable rate quote here. (Jul 27th, 2018)
Loan Product Rate Updates
Many mortgage shoppers don't realize there are many different types of mortgage rates. But this knowledge can help home buyers and refinancing households find the best value for their situation.
Following are updates for specific loan types and their corresponding rates.
Conventional loan rates
Conventional refinance rates and those for home purchases are still low despite recent increases.
According to loan software company Ellie Mae, the 30-year mortgage rate averaged 4.92% in June.
This is slightly higher than Freddie Mac's 4.54% average because it factors in low credit and low-down-payment conventional loan closings, which tend to come with higher rates.
Lower credit score borrowers can use conventional loans, but these loans are more suited for those with decent credit and at least 3% down. Five percent down is preferable due to higher rates that come with lower down payments.
Twenty percent of equity is preferred when refinancing.
With adequate equity in the home, a conventional refinance can pay off any loan type. Got an Alt-A, subprime, or high-PMI loan? A conventional refi can take care of it.
For instance, say you purchased a home three years ago with an FHA loan at 3.5% down. Since then, home values have skyrocketed.
You refinance into a conventional loan (because you now have 20% equity) and eliminate FHA mortgage insurance.
This could be a savings of hundreds of dollars per month, even if your interest rate goes up.
Getting rid of mortgage insurance is a big deal. This mortgage calculator with PMI estimates your current mortgage insurance cost. Enter 20% down to see your new payment without PMI.
Verify your conventional loan eligibility (Jul 27th, 2018)
FHA mortgage rates
FHA is currently the go-to program for home buyers who may not qualify for conventional loans.
The good news is that you will get a similar rate — or even lower one — with an FHA loan than you will with conventional.
FHA loan calculator:
Related: Read more about FHA costs and requirements on our FHA loan calculator page.
According to loan software company Ellie Mae, which processes more than 3 million loans per year, FHA loan rates averaged 4.94% in June, while conventional loans averaged 4.92%.
Another interesting stat from Ellie Mae: About 30% of all FHA loans are issued to applicants with scores below 650.
FHA loans come with mortgage insurance. But overall cost is not much more than for conventional loans.
A little-known program, called the FHA streamline refinance, lets you convert your current FHA loan into a new one at a lower rate if rates are now lower.
An FHA streamline requires no W2s, pay stubs, or tax returns. And you don't need an appraisal, so home value doesn't matter.
Learn more about the FHA streamline refinance here.
Verify your FHA loan eligibility (Jul 27th, 2018)
VA mortgage rates
Homeowners with a VA loan currently are eligible for the ever-popular VA streamline refinance.
No income, asset, or appraisal documentation is required.
If you've experienced a loss of income or diminished savings, a VA streamline can get you into a lower rate and better financial situation. This is true even when you wouldn't qualify for a standard refinance.
But don't overlook the VA loan for home buying. It requires zero down payment. That means if you have the cash for closing costs, or can get them paid for by the seller, you can buy a home without raising any additional funds.
"Don't overlook the VA loan for home buying. It requires zero down payment."
VA mortgages are offered by local and national lenders, not by the government directly.
This public-private partnership gives consumers the best of both worlds: strong government backing and the convenience and speed of a private company.
Most lenders will accept scores down to 620, or even lower. Plus, you don't pay high-interest rates for low scores.
Quite the contrary, VA loans come with the lowest rates of all loan types according to Ellie Mae. In June, 30-year VA mortgage rates averaged just 4.74% while conventional loans averaged 4.92%
Check your monthly payment with this VA loan calculator.
There's incredible value in VA loans.
Verify your VA loan eligibility (Jul 27th, 2018)
USDA mortgage rates
Like FHA and VA, current USDA loan holders can refinance via a "streamlined" process.
With the USDA streamline refinance, you don't need a new appraisal. You don't even have to qualify using your current income. The lender will only make sure that you are still within USDA income limits.
More about the USDA streamline refinance.
Home buyers are also learning the benefits of the USDA loan program for home buying.
No down payment is required, and rates are ultra-low.
Home payments can be even lower than rent payments, as this USDA loan calculator shows.
Qualification is easier because the government wants to spur homeownership in rural areas. Home buyers might qualify even if they've been turned down for another loan type in the past.
Verify your USDA loan eligibility (Jul 27th, 2018)
Mortgage rates today
While a monthly mortgage rate forecast is helpful, it's important to know that rates change daily.
You might get 4.5% today, and 4.6% tomorrow. Many factors alter the direction of current mortgage rates.
To get a synopsis of what's happening today, visit our daily rate update. You will find live rates and lock recommendations.
This month's economic calendar
The next thirty days hold no shortage of market-moving news.
Wednesday, August 1: FOMC meeting adjourns
Friday, August 3: Nonfarm Payrolls, wages, unemployment rate
Friday, August 10: Consumer Price Index (a key inflation gauge)
Thursday, August 16: Housing Starts
Wednesday, August 22: Existing-Home Sales
Wednesday, August 29: GDP
Now could be the time to lock in a rate in case these events push up rates this month.
What are today's mortgage rates?
Despite recent upticks, low mortgage rates are still available.
Get a personalized mortgage rate analysis to see how much you can save.
Verify your new rate (Jul 27th, 2018)
Selected sources:
https://www.cnbc.com/2018/07/25/here-are-the-companies-talking-about-trumps-tariffs.html
https://taxfoundation.org/tracker-economic-impact-tariffs/#enacted
https://www.cbsnews.com/news/will-trumps-tariffs-push-the-economy-into-recession/
The information contained on The Mortgage Reports website is for informational purposes only and is not an advertisement for products offered by Full Beaker. The views and opinions expressed herein are those of the author and do not reflect the policy or position of Full Beaker, its officers, parent, or affiliates.